Delphin Swim Discs®
EU Conformity
EU Declaration of Conformity
The company Delphin Vertriebs- und Service GmbH, Altvater Str. 3, D-61231 Bad Nauheim, Germany, hereby declares that the following
certified swimming teaching aid, upper arm swimming aid type B / Super,
Delphin swimming discs / Swim Discs, children up to 60 kg
Tested according to EN-13138-1:2014, AfPS GS 2019:01 PAH
complies with the provisions of Regulation (EU) 2016 /425 and the procedure according to
Module (D) of the Regulation under control of the notified body
TÜV Rhineland, LGA Products GmbH, Tillystr. 2, D-90431 Nuremberg
Certificate No.: S 60148723
is subject to.
Bad Nauheim, the 30.05.2020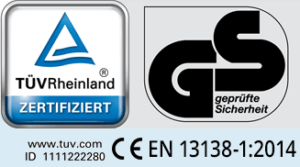 Delphin® swim discs on the TÜV Rheinland website